Pubes In Phallusland (1985)
This is one of the earliest GWAR videos in existence, from PB Kelly's in Richmond, VA. According to the titles, it was shot by Michael D. Moore and Hunter Jackson at GWAR's second show with their own instruments. I'm not sure whether this means that it was their second show ever, and they were playing their own insturments, or if they played numerous other shows before with someone else's instruments. Either way, this rare piece of GWAR's prehistory has been shat forth like a petrified turd to shed some light on the dawn of the Scumdogs.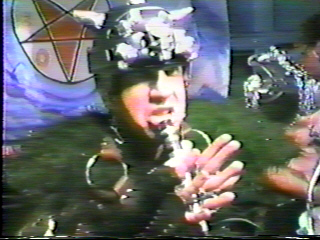 Original singer Johnny Slutman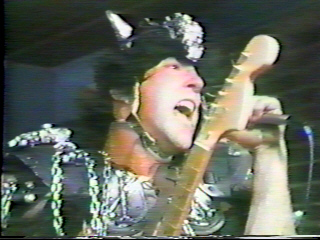 Oderus Urungus on guitar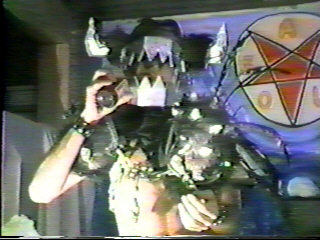 Balsac getting drunk
Some things never change- Techno gets the shit beat out of him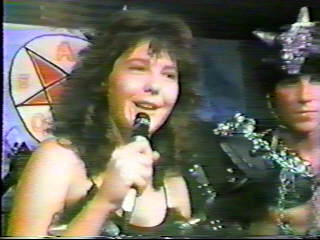 The original GWAR Woman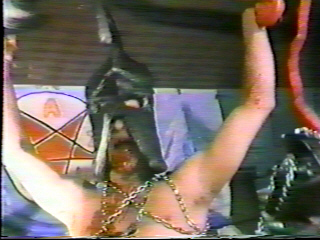 Pink Unicorn entrails... my favorite!
The video features one of the earliest lineups with Johnny Slutman (Ben Eubanks) on vocals, Oderus (Dave Brockie) on guitar, Jaws of Death (Steve Douglas) also on guitar, BalSac (Chris Bopst) on bass, and Sean Sumner (whose character didn't have a name) on drums.
The video begins with some meaningless stage banter by Oderus while the band waits for one of their amps to be replaced. Then there's a pseudo-music video of the live performance of Rock N Roll Party Town edited together from various scenes throughout the show. Unfortunately the sound is distorted and sounds shitty.
There are some cool things to see in this old video, though. We get to see Techno Destructo (who has some kind of blaster on his arm rather than his trademark Atomic Power Claw) get the shit beat out of him with a mace. We're also treated to an unnamed character in a helmet who rips the intestines out of a fluffy pink unicorn and dives out into the crowd with entrails dripping from his mouth.
We also get a good look at the original brunette GWAR Woman and get to watch her re-create a frozen antarctic blizzard. Actually, she tosses bags of styrofoam packing popcorn out into the crowd. There's also some guy in a Suicidal Tendencies t-shirt with a staff with a monster eyeball or something on it and some kind of mask that might be from the Antarctican Ant. There's also another guy (who looks like he may be a young Chuck Varga) in the crowd who has a hat with a severed baby's head and legs sticking out of it.
After that we're treated to the gorier first edit of the Black & Huge video, which features more of the bloody scenes than wound up in the final version (which almost never got aired anyway). It then has some footage of the band running around in the streets and yelling at crowds outside the club that the video was filmed at.
Then it's back to the 1987 show for some unedited single camera footage. Unfortunately it's not the entire show. The band starts out and plays Rock N Roll Party Town, but apparently Douglas' amp wasn't working (not that you can tell the difference because it sounds so distorted anyway) so then they waste about ten minutes trying to fix it. Oderus makes a comment about "So Johnny, you just flew in from Cleveland. I hear it's pretty hot there." And Johnny just says "YEAHHH!" And then they repeat it three more times. In fact, Johnny doesn't say anything other than "YEAHHH!" the whole time and Oderus does all of the talking.
Finally they get the amp working and the band plays through Rock N Roll Party Town again. But just when you're getting psyched to see these mythical characters that have heretofore only been glimpsed at in their Hell-o! era comics, it's over.
After that it cuts back to the final edit of the Black & Huge video that can be seen in the TVD and Next Mutation videos.
Overall, this video is a rare gem that could only have been cooler if the full show had been included.