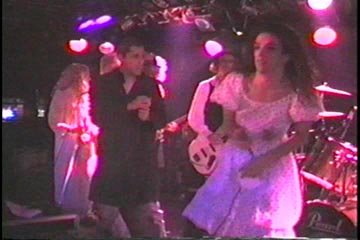 Mrs. Scabtree
In the October 1996 issue of Guitar World, Manson and Twiggy had this to say about Mrs. Scabtree when interviewed:
Manson: Right before he [Twiggy] joined Marilyn Manson, we had two
different side projects together. One was Satan On Fire, a fake Christian
death metal band. Then we also formed another side project together
called Mrs. Scabtree, where I played drums and Twiggy was the lead
vocalist, dressed up like a black woman.
Ramirez: Videotapes of that are floating around.
Ramirez: The Mrs. Scabtree single that was played on the radio down there
was called "Herpes." It mentioned all the local girls who had herpes.
GW: It must have been a very long song.
Mrs. Scabtree was the second side project between Manson and Geordie White. Manson played drums, while Geordie shared vocal duties with Jessicka from Jack Off Jill. According to the ticket above, other the band also included members from The Itch and Sister Venus, and featured Pat Joyce on lead bass and Killer on rhythm bass. Video footage from this show can be found on the bonus footage for the Demystifying The Devil DVD, and we also see Scott Putesky playing guitar in the band, as well as Pogo on keyboards.
This is how Jessica described the band:
"It was an idea that came about when a bunch of us had warehouses close
together. We wrote 10 songs. Mrs. Scabtree consisted of me, Twiggy,
Manson, Pogo, and several other local musicians who shall remain
nameless. It involved many people crossdressing, painting their faces
black, and insulting members of the audience. There were only two shows,
I have both on video tape. It was definitely performance art. Actually,
not even performance, just art."
The first show was on April 5, 1993, and we're looking for the date on the second. In Demystifying the Devil, they way they explain the band is that after Manson had signed to Nothing/Interscope, the record label didn't want them to play any local shows any more. So instead they came up with this side project which was basically just a bunch of friends having fun.
According to this post on alt.music.marilyn-manson, Manson & Jessica even got arrested at one of the two shows:
A lot of numbers on the board say "94" which might be the year, but I
highly doubt that considering his eyebrowless-makeup look was already
apparent in '94 when he was on the Nine Inch Nails tour. Nope, this
picture dates back to when he was in Mrs. Scabtree (long time ago) with
the now lead singer of Jack Off Jill, Jessicka. He was arrested for
simulation of something-or-other, or basically, Brian Warner exposed
himself on stage. And so was Jess. The entire night that they were in
jail, the cops referred to them as "Mickey and Mallory."
As mentioned above, they had a song called Herpes which was played on the radio in Florida and listed at least one local girl who had herpes. If you couldn't guess, this pissed off her and her boyfriend, who was the big muscular bass player from Collapsing Lungs. After they played the song at the show, she threw a drink in Geordie's face and got into a fight with Manson's girlfriend, Missie Romero, in the bathroom. All of this is detailed on Demystifying The Devil. For their second show, they change the name of the song from Herpes to Missie. The studio version of this song (or any other Scabtree song) has yet to surface, but an incomplete live version was released on From Obscurity To Purgatory, plus a shitty unofficial remix called Standing In Line was on Dancing With The Antichrist.
One other song title is know as well. At the 1993 Slammy Awards (the local equivalent of the Grammies) Manson was presnting an award, and
after he read off the nominees he added "...and Mrs. Scabtree for "Your Mother Fucks A Sausage". That one was a late entry". The winner was
Saigon Kick for The Lizard, and since the band wasn't there to accept the award, he called Geordie up on stage and they threw the award onto the floor and broke it, hitting a girl in the crowd in the process.
Known Tracks :

1. Herpes
2. Your Mother Fucks A Sausage
3. Missie
Plus at least eight other unknown songs.
Herpes
(verse sung by Jessicka, chorus also with Geordie)

Diseases diseases diseases diseases
Sexually transmitted diseases
Sexually transmitted diseases?
Yeah, sexually transmitted diseases
Diseases diseases diseases diseases
Sexually transmitted diseases?
Yeah, sexually transmitted diseases

Herpes, herpes, herpes, herpes, herpes

Just like 7-11's got Slurpees
Glory, I've got them herpes

Herpes
Herpes herpes herpes herpes
Herpes
Herpes herpes herpes herpes
Herpes
Herpes herpes herpes herpes

(note: the live version on From Obscurity To Purgatory cuts off after only 1:22. On Demystifying The Devil you can hear parts of some other verses. Also, the list of girls with herpes isn't in this version of the song.

She's the baddest girl on the south Florida scene
Meet her in the bathroom and she's really mean
Pressing you up against the wall
Makes you black and blue in the bathroom stall

Missie
Missie Missie Missie Missie
Missie
Missie Missie Missie Missie
Missie
Missie Missie Missie Missie

Some screen captures from Demystifying The Devil can be found in the Pictures section.